Delegates at ILC GLF 2018 Express Support for GLII – IFAD Proposal
In September 2018, members of the International Land Coalition (ILC) and other stakeholders from grassroot organisations, activists, local and international NGOs, researchers, as well as multilateral organisations and government agencies from around the world converged in Bandung, Indonesia for the 2018 Global Land Forum (GLF). This year's GLF was hosted by the Government of Indonesia under the theme United for Land Rights, Peace and Justice.
The Forum aims to advance understanding of the complex and dynamic political, economic, environmental and social link between land governance, food security, poverty and democracy. Locally GLF was timely because it provided a platform for the people and government of Indonesia to reflect on their Agrarian reforms and tenure rights for all, including indigenous people. Globally, the Forum advanced responsible land governance agenda as put forward by the Voluntary Guidelines on the Responsible Governance of Tenure of Land, Fisheries and Forests in the Context of National Food Security (VGGT) and Agenda 2030.
The diversity of the delegates enriched discussions at the forum and affirmed the importance of global coordination, networking and multi-sectoral collaboration to achieve responsible land governance for peace, justice and sustainable development. Despite reported positive progress in addressing land governance issues globally by various ILC members, gaps in monitoring of land tenure and governance initiatives, communicating key outcomes in people's lives and fostering best practice remains. This need resonates with the mandate of the Global Land Indicators Initiative (GLII). This is a global multi-stakeholders' platform hosted and facilitated by the Global Land Tool Network (GLTN) at UN-Habitat, made up of over 50 partners working towards achieving global monitoring of land governance issues through comparable land indicators for comparable data by 2030.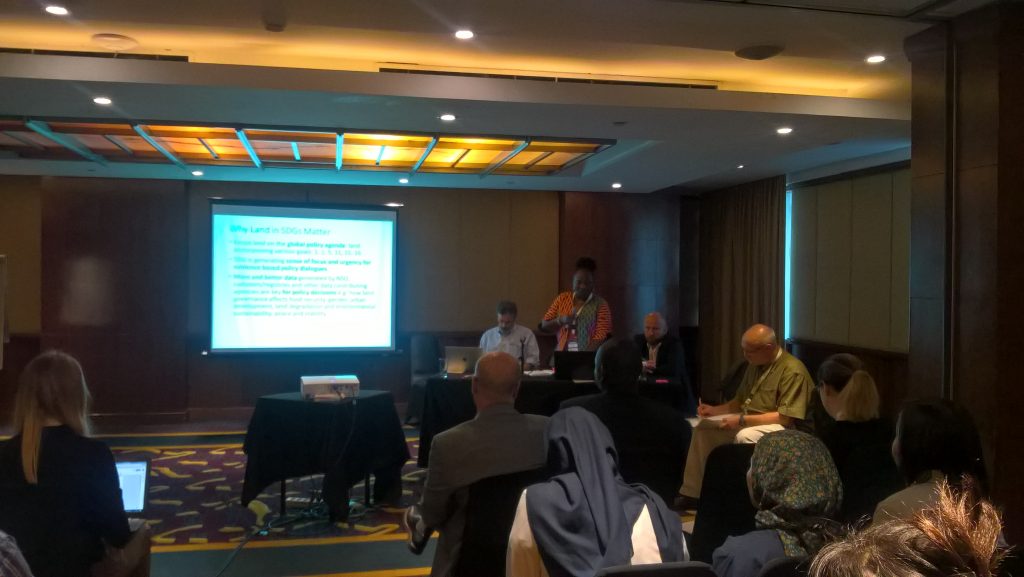 Going Beyond the SDGs to Monitor Land Governance Issues
Inspired by the VGGT and the Sustainable Development Goals (SDGs) 1, 2, 5, 11, 15 and 16 which include key land targets land and governance of other natural resources, the ILC members and other stakeholders are challenged to do more to secure land tenure and natural resource rights for all; leaving no one behind to achieve the SDGs by 2030. At the heart of land and data communities is the aspiration for better coordination and strong mechanisms for generating authentic, regular and sex disaggregated land data and statistics.  This goal is pursued through National Statistical Offices (NSOs) whose role is central to data collection, tracking progress and reporting on SDGs with CSOs, the private sector and other data contributing agencies well positioned to provide complementary data and monitoring support to track progress at local to global. This data is used to track and communicate progress and outcomes related to local and global land tenure and governance of natural resources.
Since 2012, GLII, has coordinated and facilitated efforts of the land and data communities in developing global indicators, data protocols, tools and knowledge products that set the foundation for monitoring land governance issues.   The GLII community successfully developed a set of 15 globally comparable and nationally applicable land indicators for monitoring land governance issues. Through high level lobbying and influencing, some of these indicators including tenure security indicator 1.4.2 were included in SDG1. This is a major milestone considered to position the importance of securing tenure rights in achieving sustainable development globally.  GLII indicators have since gained traction and integrated in various data initiatives including those of regional bodies like Monitoring and Evaluation in Africa under the Africa Land Policy Centre; CSOs generated data under the ILC Dashboard and the private sector like Property Rights Index (PRIndex) by Global Land Alliance.
There is no doubt that the global mechanism for monitoring SDGs led by National Statistical Organisations, complemented by other local, regional and global mechanism for monitoring land governance is set to transform quality and accessibility of land data and statistics for tracking progress on key outcomes related to land than ever before. Despite the significant success, for GLII, land data and statistics are not enough. There is a need to collate and compare land data and statistics from various sources such as governments, CSOs and the private sector for more nuances on land governance issues that will inform policy decisions at country level. This will allow for a deeper analysis of key trends, data triangulation to establish relationships between variables, profile gaps and areas of interventions that governments, CSOs and development agencies need to focus on. This is achievable through a facilitated process that converges land data and statistics for development of a regular global status report on land governance for policy makers and practitioners.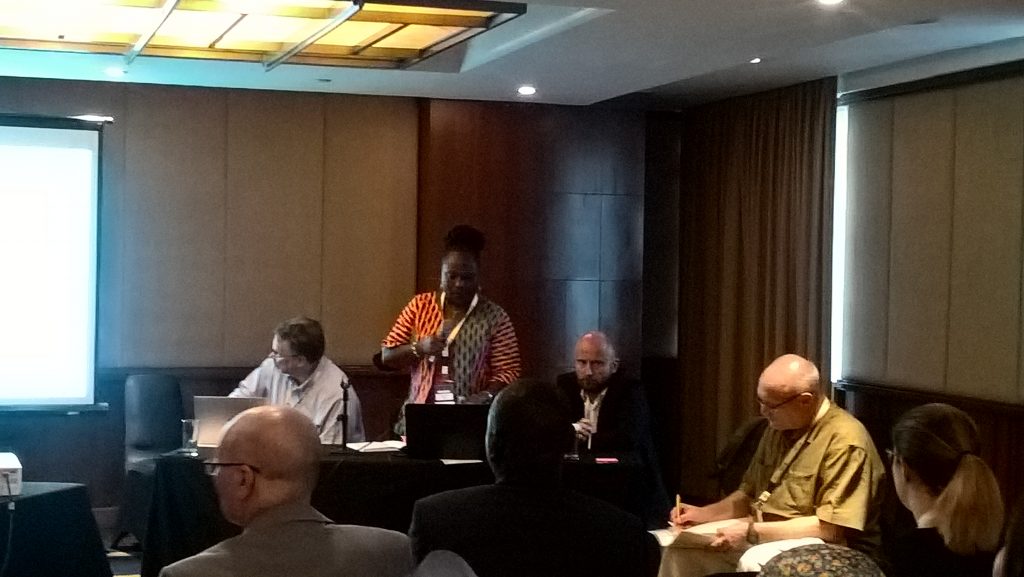 ILC Delegates Express Support for Development of Global Status Report on Land Governance
Consultation between members of the land and data communities on the value, structure and need for development of a global status report on land governance was held during   the GLF session titled "Going Beyond Data to Develop a Global Status Report on Land Governance". The session was organised by GLII and the International Fund for Agriculture Development (IFAD) to further discuss the idea of developing a "Global Status Report on Land Governance". One of the panellists, Everlyne Nairesiae, underscored the importance going beyond the norm to give real meaning and value to land data and statistics by developing a report that will benefit from government-generated land data related to the SDGs and which will be complemented by other data sources including CSOs and private sector.
The report is expected to track progress on land governance issues, show key trends, profile critical gaps and areas in need of more interventions, emerging issues and opportunities. Everlyne noted that "the UN Annual SDGs Progress Report is limited in content and does not offer the depth of analysis and scope required to address land governance issues (…). As land data and statistics are increasingly becoming available, a global status report is the way to go (…) going by the example of other global reports on poverty, food security and nutrition.''
Other panelists affirmed the importance of developing this report through a collaborative and inclusive multi-stakeholder process. Malcom Childress of Global Land Alliance emphasised the relevance of the report and its direct link it to the PRIndex initiative that collects data on perception of tenure security through global polls; while Ward Anseeuw of ILC confirmed that the Dashboard initiative for people generated data will be a good data source for this report.  All the panelists agreed that monitoring land in the SDGs and the requirement for countries to provide comparable data is an opportunity to access comparable data for consolidation and development of this global status report.
The discussion generated interest and various reactions from delegates. Those who contributed to the discussion supported the development of the global report with the following recommendations:
The report should be produced by a wide group of stakeholders (not just the custodians for land indicators in the SDGs to expand the data sources and contribution from key stakeholders).
It is important to recognize the need for producing such a report under the umbrella of the United Nations for credibility and legitimacy although the process must be inclusive. The content and scope of the report should be incremental based on available and authentic data from governments linked to the SDGs and other data sources such as CSOs and the private sector.
GLII-IFAD will keep the discussions going with the custodians, data agencies, the Global Donor Working Group on Land (GDWGL) and other stakeholders to deliberate on the structure, scope, mechanism and institutional framework for development of the report.
The ILC members are ready contribute to the report and committed to support the process that will see to the launch of the first Global Status Report on Land Governance at the GLF 2021. The conversation about the development of this important report continues.
Session Theme: Going Beyond Data to Develop a Global Status Report on Land Governance
Session Chair: Harold Liversage, Land Tenure Technical Advisor at IFAD
Panelists: Ward Anseeuw, Senior Technical Specialist for Knowledge, Learning and Innovation at ILC
Malcolm Childress, Executive Director of the Global Land Alliance
Everlyne Nairesiae, Coordinator of GLII at GLTN/UN-Habitat