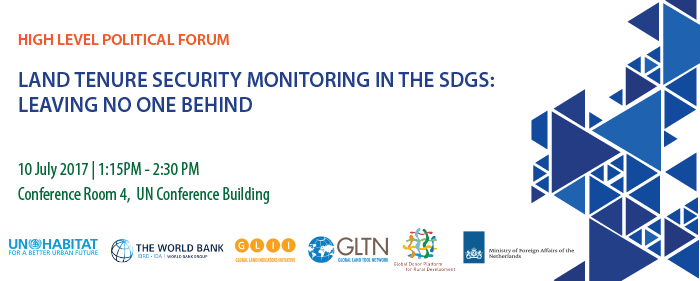 Version
Download

26

File Size

679.54 KB

File Count

1

Create Date

October 9, 2017

Last Updated

October 9, 2017
UN High-Level Political Forum (HLPF) Side Event - 10 July 2017 - Final Report
---
Land Tenure Security Monitoring in the SDGs: Leaving No One Behind Progress on Monitoring Tenure Security in SDGs – where are we?
UN High Level Political Forum  (HLPF) Side Event - 10 July 2017
The UN-Habitat, World Bank and the Global Land Tool Network (GLTN) host of the Global Land Indicators Initiative (GLII)1 in collaboration with Global Donor Working Group on Land (GDWGL)2 jointly hosted a side event titled Land Tenure Security Monitoring in the SDGs: Leaving no one behind at the 2nd High-level Political Forum on Sustainable Development (HLPF).
The objective of this side event was to:
Create an interactive space for dialogue involving Member States of the United Nations, specialized agencies, and civil society on the contribution of land tenure security in eradicating poverty;
Update on the progress made in developing the methodology for measuring indicator 1.4.2; and
Discuss strategies for building effective partnerships for addressing tenure security monitoring for meaningful policies for better land governance in support of eradicating poverty and promoting prosperity in a changing world.
---