On 4th July 2019, 512 certificates of customary land ownership were issued to smallholder farmers from Butaleja District in Uganda in accordance with the 1998 Land Act and the Uganda National Land Policy. In an atmosphere charged with joy and celebration, H.E. the President Yoweri Kaguta Museveni of Uganda presented the long-awaited certificates set to benefit over 2,324 smallholder farmers, of which 1,031 are women. The auspicious ceremony was held in Tororo district, Eastern Uganda, and was graced key dignitaries who included: State Minister of Lands Hon. Namuganza Persis and Commissioner Land registration, Mr. Robert Opio among others.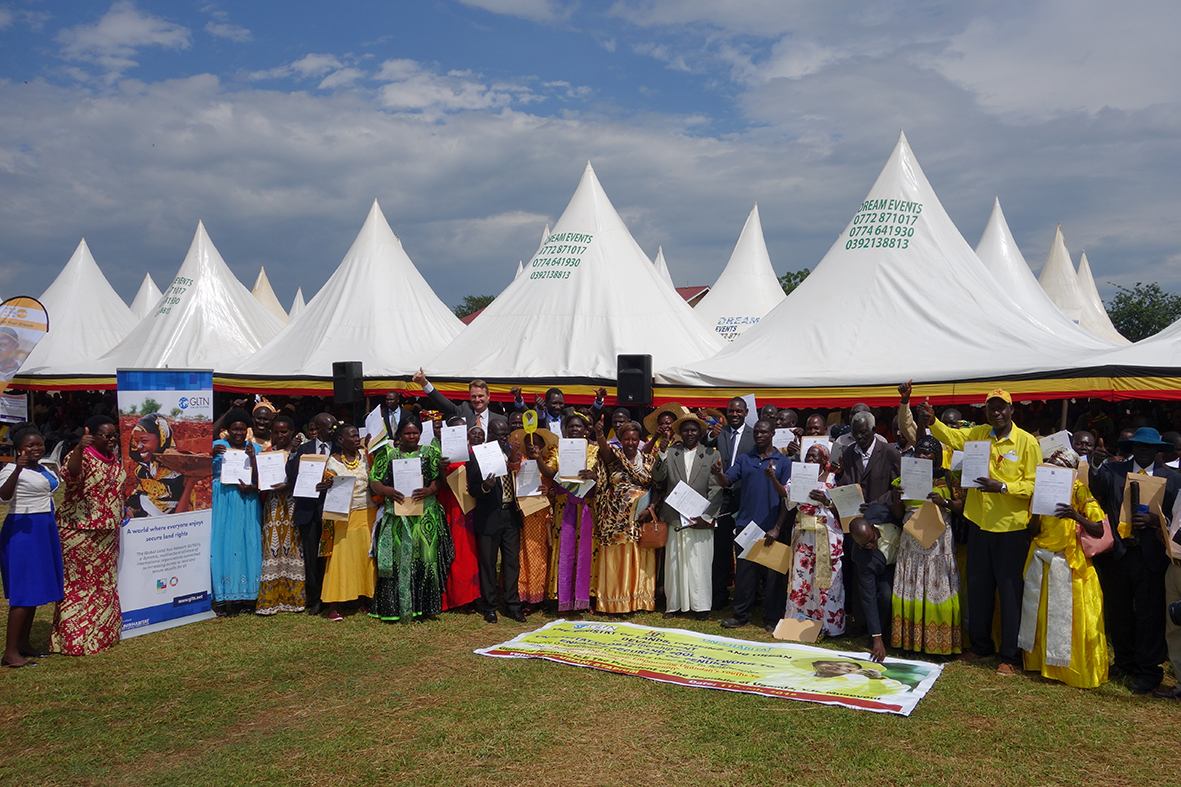 In Uganda, a significant proportion of the population access land through customary land tenure system governed by the customs and norms of the respective area where the land is situated, outside of the formal land administration system. With undocumented land rights, land conflicts and fragmentation are high, and women are most are affected by tenure insecurity.
In his remarks, the President encouraged the people to start registering their land interests in order to resolve and reduce land disputes. He advised families against sub-dividing their land noting that the continuous subdivision of farms leads to small sized land holdings that may be hard to economically operate. He urged the beneficiaries to hold land as a family asset if they intend to benefit optimally from it.
In Butaleja, the project is working with over 880 rice smallholder farmers in three wetlands of Nasinyi, Nahamya and Kayiti to promote responsible use of wetland resources with the aim of improving food security, investment and social inclusion. Since the start of the project, 80 per cent of the reported land disputes have been resolved amicably through community mediation channels which has increased productivity amongst the farmers.
This intervention falls within the 'Securing Land Tenure for Improved Food Security in Select Areas in Uganda' project in Uganda, funded by the Embassy of the Kingdom of the Netherlands in Uganda and implemented by GLTN partners that include: the International Institute of Rural Reconstruction (IIRR); Uganda Community Based Association for Women and Children Welfare (UCOBAC); ACTogether Uganda; International Fertilizer Development Centre (IFDC); Justice Law and Order Sector (JLOS); Makerere University; Ministry of Lands, Housing and Urban Development (MLHUD); and, local governments in three agricultural zones of Uganda; South Western Uganda, the Kyoga Plains and Mt. Elgon Region.
In addition to this significant event, 835 Certificates of Customary Ownership were issued to beneficiaries in Adjumani District on 11th July 2019, to mark the World Population day. The handover ceremony was presided over by the Vice President of Uganda, H.E Edward Kiwanuka Ssekandi.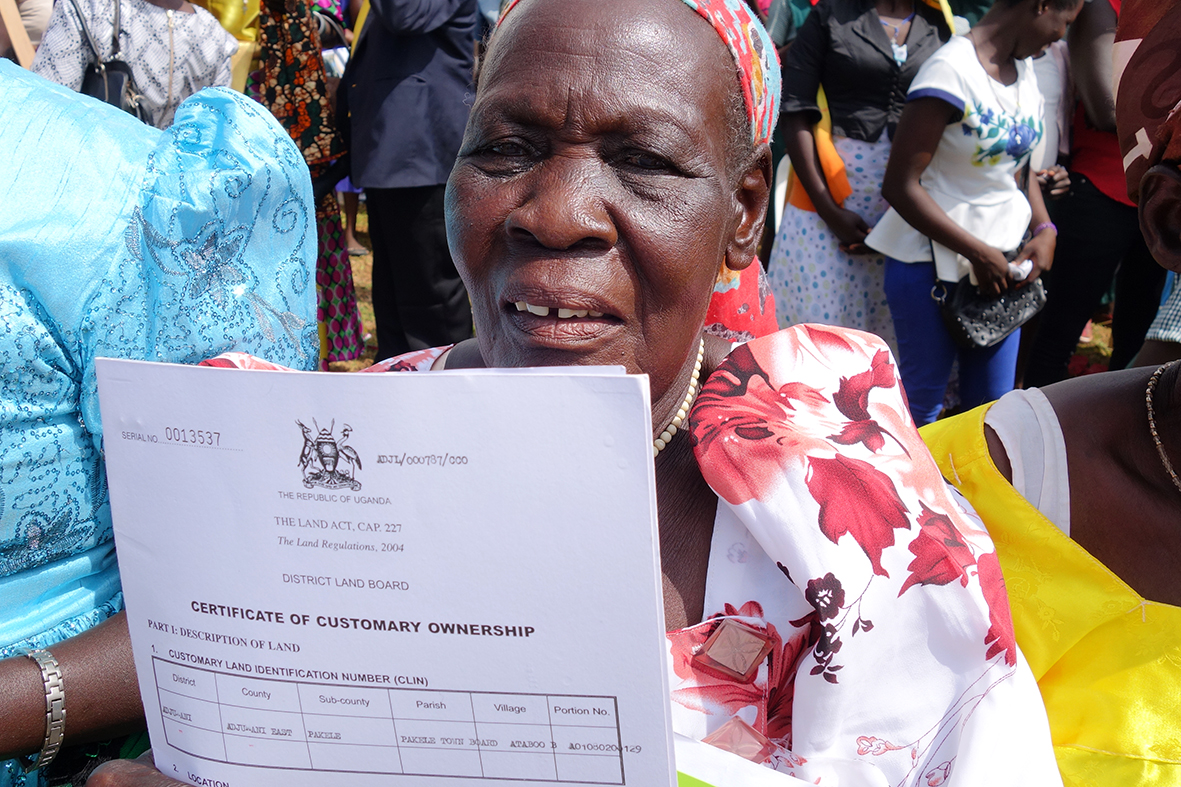 During the ceremony, Chief Drani Stephen Izakare, the Paramount Chief of Madi Traditional Cultural Leaders, emphasised how the process had been inclusive and called for scaling up of the project to cover the whole West Nile Region. The Chief Administrative Officer in Adjumani District commended the process for having developed the capacity of the District Land Office and Area Land Committee with enumeration and mapping skills, which is critical for a long-term sustainability of the process. This project was implemented in collaboration with MLHUD, Adjumani Local Government, ACTogether Uganda and other local key stakeholders.
The over-all GLTN programme support to Uganda land reforms is supported by the Governments of Netherlands, Germany, Sweden, Switzerland, Norway and UN-Habitat.