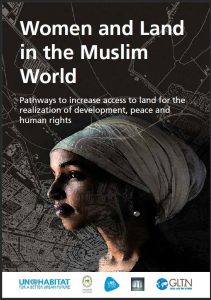 The challenges faced by women living in Muslim contexts do not substantially differ from those faced by women in other parts of the world: socially prescribed gender roles, unequal power dynamics, discriminatory family practices, unequal access to justice are the most common. However, 20 per cent of the world's population is Muslim and certain land-related patterns reflecting customary and religious practices emerge as common elements that create context-specific opportunities to meet these challenges.
This publication investigates these common elements, reviews international frameworks and national laws, and analyses a wide range of country experiences. Different tenure options are compared and special attention is given to the protection of women's land rights through inheritance and at the time of marriage, when the land and property regime of the family is redefined. Legal and administrative reforms, access to justice, credit and microfinance are presented as important conditions for change. Particular emphasis is put on the protection of displaced women's land and housing rights.
The publication – jointly developed by UN-Habitat, University of East London, Urban Training and Studies Institute and Arab Union of Surveyors – provides practical and evidence-based guidance on how to improve women's access to land as an essential element to achieve social and economic development and enjoyment of human rights, peace and stability in the specific context of Muslim communities.
---
Available in English and Arabic.
---