Reflecting the excitement surrounding the event, the word that was on everyone's lips that day was 'CCO's' – Certificate of Customary Ownership of land. On the 1st of November, during a historic ceremony, over 300 people in the Pajule sub county of Pader district in Northern Uganda were given their 'CCO's' – Certificate of Customary Ownership, by Princess Persis Namuganzi, the Honorable Minister of Lands in the Government of Uganda.
The ceremony was filled with song and dance accompanied by drumbeats and ululation. The excitement in the air underscored the key role land plays in the lives of most people in Uganda, a country where less than 20% of the land is registered and mapped. The people in Pader District had added reason to be ecstatic over receiving the CCOs because most them had returned to their ancestral land about 10 years ago after being displaced by the Lord's Resistance War. Establishing peace and rebuilding their lives on family land, was top in the minds and hearts of most families returning home from the Internally Displaced Persons (IDP) camps.
Peace had been elusive over the years because land boundaries had become a source of constant conflict and dispute between families. Many of the people who had run away to the IDP camps as adults, had since died or were too old to remember the boundaries.  The younger generation were not sure of the boundary markers because they were very young during the war. So, finding out who owns what and where has been paramount for the community and it was therefore very comforting when the Minister, Princess Namuganzi assured the people during the recent ceremony saying "…the CCOs – which are issued at the local level – hold equal weight to titles which are issued at the Ministry Zonal Office in Gulu, so no one needs to travel to Gulu'.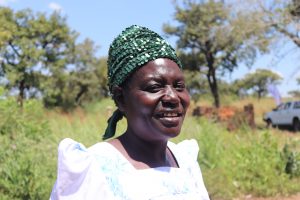 The conflict affected the family of Santa Otyeka, a 60-year-old widow who returned to Pader in 2007 with her 14 children and extended family from an IDP camp. Santa, a well-respected community leader and a family matriarch, narrated how there were constant attacks before her land was mapped.
Reflecting on the situation, Santa said 'the advantage I had was that my late husband had shown me the boundaries for our 100-acre family land before we went to the IDP camp. Thus, upon our return, I knew the exact location and boundaries of our land'.
This did not stop some of her immediate neighbors from encroaching on her land – especially because being a woman in a patriarchal community where women own less than 5% of the land – they thought they could easily take over it since her husband had died. With a lot of emotion in her voice, Santa went on to narrate that 'the situation became dire when one morning a group of neighbors attacked me and my family by breaking into our homestead wielding axes and hoes ready to run me and my children out of our home. We were saved by a different group of neighbors who came to our rescue and called the police who arrested the attackers'. The arrests temporarily resolved the conflict over the disputed 30-acre portion of land but as Santa recalls, 'my children and I still lived in fear of being attacked until our land was mapped and the boundaries were established'.
The dispute was eventually resolved through a community dispute resolution process led by community leaders and supported by the work of UN-Habitat and the Global Land Tool Network (GLTN) working with Uganda Community Based Association for Women and Children Welfare (UCOBAC), the Area Land Committee (ALC) and traditional (clan) leaders using GLTN land tools that are pro-poor, gender responsive and fit-for-purpose to improve tenure security. The ALC made up of community leaders together with traditional leaders, traversed the bushland sub county of Pajule, walking long distances in their gum boots and over coats to map land, sensitize and train the community on land matters. In so doing, the ALC were able to establish actual boundaries while ensuring these boundaries were agreeable to all parties, which led to the issuing of the CCOs. They used simple affordable techniques provided by GLTN to capture land details, for communities who cannot afford expensive land surveying techniques. In this way *GLTN supports implementation of the National Land Policy and land laws working closely with Ministry of Lands Housing and Urban development.
For Santa, the process secured all her land and confirmed the 30-acre portion hence for this reason, Santa could not express enough joy and gratitude when she received her CCO. Her appreciation was so great that she broke into a traditional song and dance while waving her certificate high in the air. The CCO meant that she could live in peace with her children without fear of attack because the process put an end to the conflicts and disputes over her land. During the ceremony, she commended the GLTN and UCOBAC for this project, which enabled many families like hers to receive CCOs.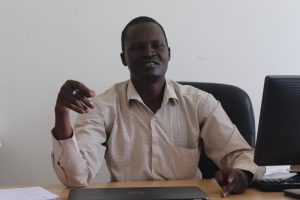 Julius Nyeko, the Senior Land Management Officer restated Santa's words by saying 'we had very many land wrangles before the land mapping project but now there are few and far in between. The people are now free to use their land for economic gain like growing more crops, which will provide a surplus for sale.' This same point was reiterated by the Minister of Lands, Princess Namuganzi who in closing, said that 'the CCOs confirmed rights and ownership and the people were now free to invite investors without fear of loss of land. There is also more work to be done since there are plans to finish issuing of CCOs to the rest of Pader district before moving on to the other districts'.
---
*GLTN focuses on three strategic interventions in Uganda working with the local and national government and partners;
Supporting the National Land Policy implementation, GLTN works closely with Ministry of Lands Housing and Urban development on this area.
Implementing pro-poor and gender responsive land tools and approaches – to improve living conditions of urban poor working closely with ACTogether and Slum Dweller's Federation as well as with UCOBAC, IIRR, ActionAid and VODP in rural areas to improve tenure security of small-holder farmers, particularly women, youth and vulnerable groups.
Enhancing multi-stakeholder partnerships and platform engagement.