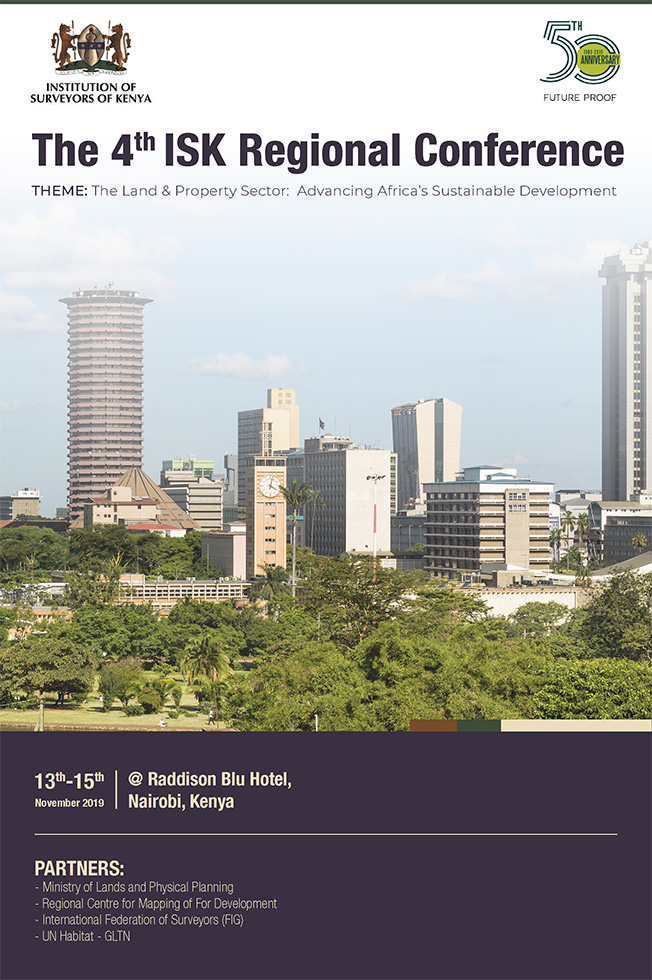 THEME: Land and Property Sector: Advancing Africa's Sustainable development
DATES: Wed 13th and Thur 14th, November 2019
VENUE: Radisson Blu Hotel, Nairobi
About the 4th ISK Regional Conference themed; Land and Property; Advancing Africa Sustainable Development.
The ISK Regional Conference is an annual event organized by the Institution of Surveyors of Kenya which is the professional body for landed professionals in Kenya. The Institution has about 4,000 members organized into eight major disciplines namely: Land Surveying, Building Surveying, Engineering Surveying, Land Administration Managers, Geospatial Information Management, Valuation Surveyors, Property Managers and Real Estate Surveyors Chapters.
This is the 4th Regional Conference that brings together senior Government officials, property developers, academia and other stakeholders in various disciplines such as Valuers, Property Managers, Land Administrative Managers, Building Surveyors, Land Surveyors, GIS experts and Engineering Surveyors across African region as well as from the international community.
The three day conference will present a unique opportunity for African Countries to discuss issues and challenges within the surveying profession and this will therefore be insightful, futuristic and will shed light on key areas of concern. The Conference will attract more than 400 participants with over 20 African countries being represented, making it a great avenue to network with the key industry players and fellow peers. Some of the tangible outcome being knowledge sharing, investment opportunities as well as high level networking with business leads. Some of the notable topics to be discussed are as follows;
SUB-THEMES
Land Governance and Sustainable Land Management
Changing Landscape of Surveying technology
Contemporary Land Administration Processes
Real Estate and Property Valuation in Africa
Professional Ethics and Conduct
Unlocking New Frontiers in Real Estate Investments
Asset, Property and Facilities Management in the Region
Contemporary issues in surveying
Decentralization of Land Administration
National Land Policy: Contributions to Sustainable Land Management
PARTNERS:
Ministry of Lands and Physical Planning
Regional Centre for Mapping of For Development
International Federation of Surveyors (FIG)
UN Habitat – GLTN