Recently, the newly inducted county land administrators and planners in Turkana benefited from an innovative Fit-For-Purpose land tools (FFP LA) and land governance training conducted by UN-Habitat and the Global Land Tools Network (GLTN). The training was organized in Kakuma town as part of a three-day workshop organized to bring together county officials, host, and refugee community to discuss the Kakuma Regeneration Strategy, and to validate the strategies proposed therein. A total of sixteen (16) County government officials consisting of planners, surveyors, environmentalist and the county commissioner actively participated in the training. Further, the training included a demonstration of a land information system based on the Social Tenure Domain Model (STDM) framework which promotes the principles of a FFP LA through inclusive and participatory methodologies in land management.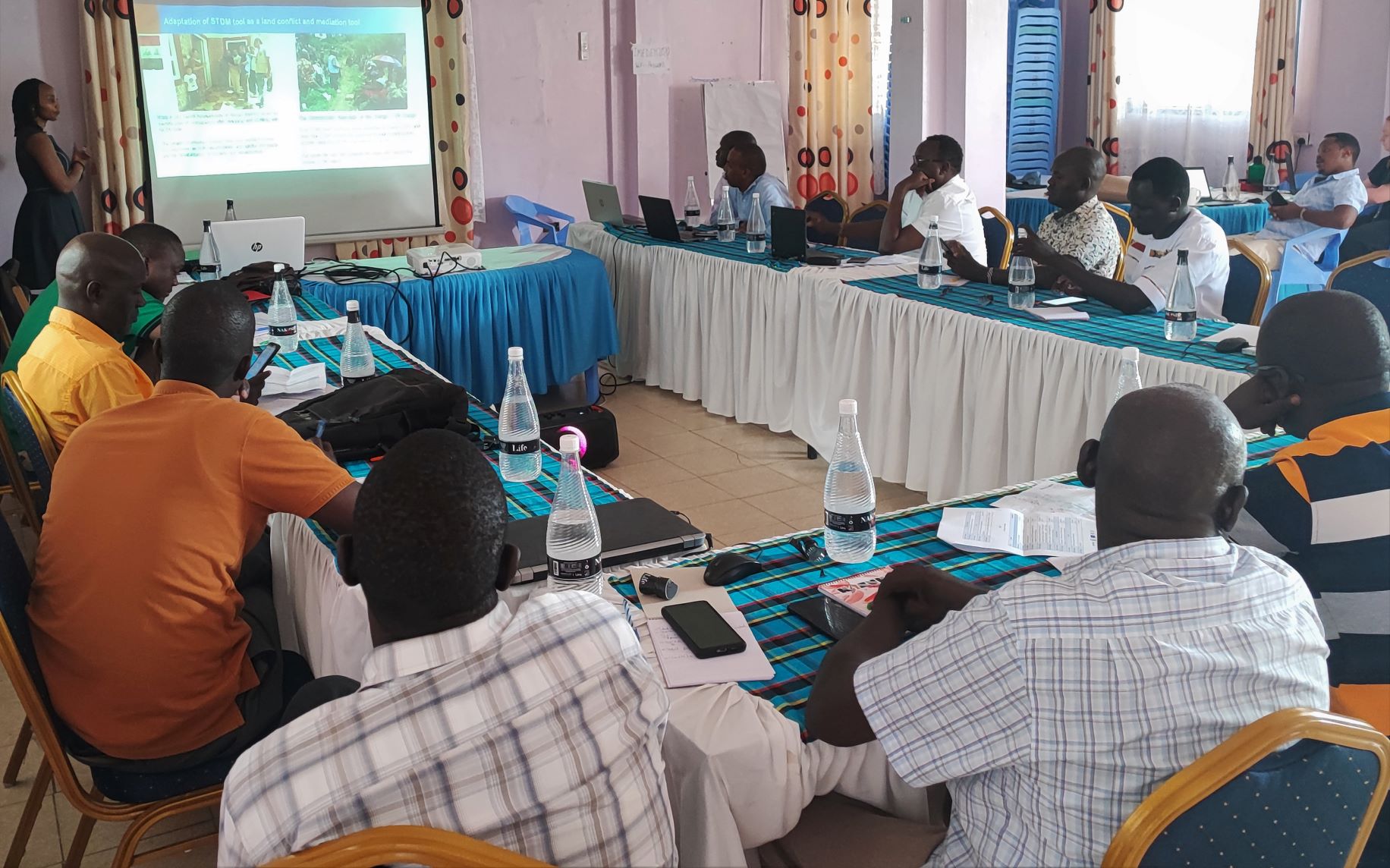 Turkana county has varied context of land challenges particularly due to the prevalence of unregistered community land and the presence of refugees' camps. UN-Habitat has been supporting the county in infrastructural and spatial planning projects and this year, Kakuma-Kalobeyei town was elevated into municipality status, that is, Kakuma-Kalobeyei municipality, hence necessitating integration of land governance approaches in the project work. The regeneration strategy has been developed proposing local development and community integration, new land use plans, restoration of degraded environments, etc. with a specific focus on the regeneration of Kakuma Camp 1, inclusive of all facets of regeneration; economic, socio-cultural, environment, governance, and spatial planning. The intention of the proposed interventions is to benefit both the host and refugee communities, current and future. Thus, this training aimed at emphasizing the need for flexible practices to improving land management in Turkana County based on other successful case studies, in different contexts, globally.
Integration of land governance is key in advancing access to land, addressing land conflicts and promoting local community in land management discussions. STDM has been identified as a tool that promotes participatory processes in land governance, and it has been very successful in different contexts in Africa and Asia in relation to land governance challenges. During the workshop, GLTN received positive feedback, and questions were raised on the suitability of the tool, its broad experiences in Kenya and the enabling legal framework for its large-scale use. The Turkana County Deputy Secretary emphasized that "Turkana County is experiencing urban growth at a rapid rate and given the past patterns of unplanned and spontaneous development, there is need to work urgently to regenerate the settlements in Kakuma and Kalobeyei and progressively work with the upcoming Municipality management to mainstream planned urban development".In addition, the Turkana County Director for Urban Areas Management Mr. Victor Lekaram and the Director of Survey Mr. Joseph Egiron, highlighted that land governance in Turkana County will need innovative land tools such as the STDM to assist in formalizing existing land rights, community land registration, and dispute resolution using an alternative justice system. The Director Physical Planning also identified STDM as a tool that can be used in resource mapping to guard against encroachment, and in development control. A request was made for a follow up training on the STDM to the officers, including how it can support in revenue collection at the county, and other services due to its robustness, and the tool's abilityto be used in various contexts.
In 2021, STDM was piloted in Kakuma 1 with the aim of establishing a functional land and structures information system for use in the refugee camp to improve the management of land services and structure allocation in the camp. The findings of this exercise have contributed to informing the regeneration strategies as the project moves towards its finalization. This intervention falls within the European Union Trust Fund (EUTF) for Africa – Kenya, Programme, "Enhancing Self Reliance for Refugees and Host Communities in Kenya", in Kakuma-Kalobeyei.